Error: unable to create cache folder '/images/zir'.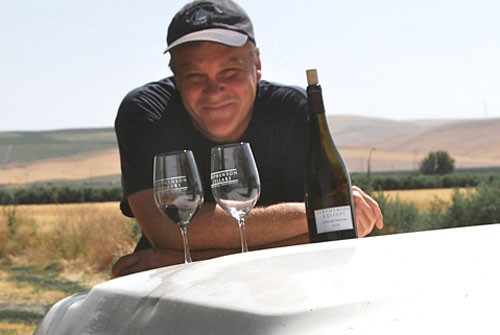 "I am the first
to admit that my wines aren't for everyone."
The Winery

Located in Walla Walla
Founded 2001
1200 cases produced annually
Wines

Cabernet Sauvignon
Merlot
Syrah
Viognier
Red Wine

Vineyard Locations

Walla Walla Valley
Yakima Valley
Horse Heaven Hills
The Winemaker

When Dave Stephenson arrived in Walla Walla in 1999, there were just 14 wineries. He quickly got hired by Waterbook Winery and was able to hone his skills making wine for both their label and their custom crush clients. At night, he poured over the UC Davis enology and viticulture curriculum courses.
In 2001, he leased his current facility near the Walla Walla airport, financing the venture himself, which gave him the freedom to make the wines he wants. "I don't want to make 'bell curve' wines," Dave says. "The ones where you blend varieties together for predictable flavor profiles that have been proven to please most wine drinkers. I like to accentuate what's edgy about particular vineyard lots. I am the first to admit that my wines aren't for everyone."
His first release was just 140 cases of his 2001 Syrah. His next vintage was 250 cases of Syrah and a 90-case bottling of Merlot.
Dave is most at home in the vineyard or on the water, sailing. "My Norwegian grandfather was both a fisherman and a farmer. He used to tell me that when he was fishing, he thought about farming and when he was farming, he was daydreaming about fishing. I inherited this characteristic - I am constantly torn between the pull of the sea and the lure of the vines."
Current wine releases are sourced from a stable of Walla Walla and Columbia Valley vineyards as well as his estate vineyard, Stellar located "on the rocks" in Milton-Freewater. In addition, Dave has planted several rows of different varietals at the winery, comprising a "scrapbook" of different grapes from vineyards he's visited across Washington. He takes cuttings and propagates them as a way to remember the grapes he really likes.
In 2003, Dave began doing lab analysis for several wineries, which grew into a consulting career as he realized there was a growing number of new winemakers that could use his knowledge and experience to jump-start their wineries. He began working nights and weekends on his second occupation, taking wineries from finding a winery location to licensing and bonding to obtaining fruit contracts with proven vineyards. Otis Kenyon Winery is his largest client. "In two years I can take anyone from zero to winery," Dave says, adding ruefully, "which is just a bit longer than it's taken me."
Photos of Dave and Bella were taken by Kimberly Miner.